جُمَادَىٰ ٱلْأَوَّل
١٢
١٤٤٥
Weekly Services
Thursday Evenings Dua Komayl from 6:00 pm to 8:00 pm
Friday Noons Jomo'a Prayer from 12:00 pm to 1:00 pm
Friday Evenings from 6:00 pm to 8:30 pm Youth Night Darul Quran
Sunday Mornings Teenagers & Adult Quran Understanding Class 9:00 am - 10:00 am in Person
Sunday Mornings Sunday School for children from 10:00 am to 12:00 noon
All Other Services by Appointment
Weekly Services
Thursday Evenings Dua Komayl from 6:00 pm to 8:00 pm
Friday Noons Jomo'a Prayer from 12:00 pm to 1:00 pm
Friday Evenings from 6:00 pm to 8:30 pm Youth Night Darul Quran
Sunday Mornings Teenagers & Adult Quran Understanding Class 9:00 am - 10:00 am in Person
Sunday Mornings Sunday School for children from 10:00 am to 12:00 noon
All Other Services by Appointment
جُمَادَىٰ ٱلْأَوَّل
١٢
١٤٤٥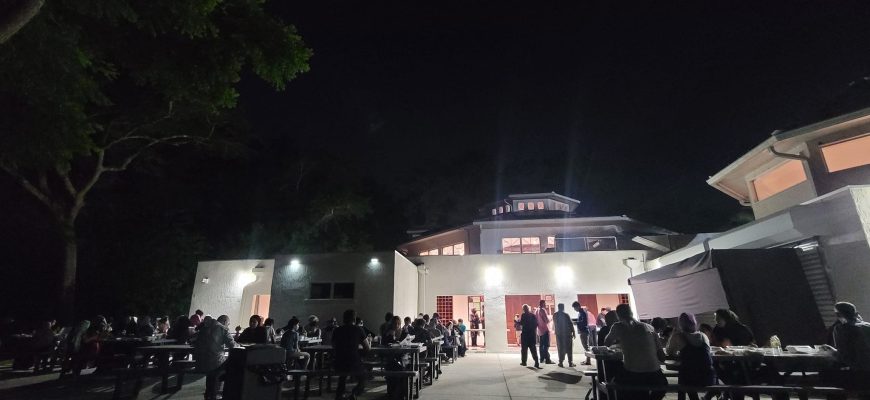 Nabi Akram Center, is a unique place to hold your events. We are proud to be a space with a high standard of ethics – from where we source our food to the meeting room. We do not hire out the space for private parties, as we wish to keep it open for our community's religious and cultural needs.
Registering to use facility:
In order to use the Nabi Akram Center for Fatiha, Nazr, Commemorations of loved ones who have passed away or any other reason, Please read and fill out the followings.
Click here for the contract:
Application-for-Use-of-Facilities
Please read and sign the contract for use of property for events. If using outside caterers for your event, please send a copy of their insurance to info@nabiakramcenter.org.
Recommendations:
Please keep meals simple. Do not go overboard with the variety of food items and desserts made for events at the center.
When possible, please have water and tea as a beverage in place of soda products.
Online application:
I/We, the undersigned, in consideration of being allowed to use the property and facilities of 1840 House of Worship, Inc. the Nabi Akram Center Jacksonville, Florida, do agree to hold the Center, its agents, members and employees harmless from any damages or injuries resulting at any time, heretofore or hereafter, from the usage of said property and facilities.
POLICIES
1840 House of Worship, Inc. Nabi Akram Center (hereafter referred to as Nabi Akram Center) recognizes that providing its physical facilities supports its members and non-members in our community. At the same time, it is necessary that such use of the facilities and equipment must be controlled in the best interest of the Nabi Akram Center. The intent of this statement is to establish consistent requirements for all groups and the use of our Center.
TERMS
The terms "single event," "recurring use," and "co-use" are used throughout this policy package. "Single event" is defined as one event a year. "Recurring use" is defined as use of specific rooms/areas more than once a year for regularly scheduled programs or activities.
REGULATIONS
All persons and groups desiring use of the facilities and/or equipment for any purpose must sign this agreement. The agreement acknowledges the group's intent to abide by these policies and to accept responsibility for any damages to the facilities and/or equipment.
The users purposes and activities must contribute to the welfare of the congregation. Further, the users practices and beliefs must be compatible with the practices and beliefs of the Nabi Akram Center. Specifically, whoever takes part in the event, including the sermons shall focus on Unity, does not encourage hate, division, violence against any religion, sect, race, ethnic group, etc.
Note: The center's current Sheikh, (Sheikh Ahmad) is only authorized to deliver Prayers & Sermons.
The objectives of the using person or group, and the activities conducted on the property, must not be in conflict with the mission of the Nabi Akram Center.
Unless the governing body of the Nabi Akram Center has granted specific exception to this rule in writing, all groups will pay a fee for use of the property as indicated in the last section of this agreement.
Alcoholic beverages, or other non-physician-prescribed drugs are not permitted on the Centers property at any time.
Smoking will not be permitted inside the Center.
Decorations used must be flameproof and shall not be attached to fixed portions of the facilities without specific approval in writing. The main hall may not be permanently decorated using any signs, symbols, etc., except as specifically approved in this agreement. However, floral arrangements may be used. Decorations must not damage the facilities or furnishings in any way. The user group must remove all decorations when finished using the facilities.
Candles are not permitted unless for ceremonial use. If used, lit candles must be "dripless" and must be placed on a plate or in a holder.
Building use hours are___11am – 9pm___. Evening events will be concluded and the building closed by _8_ p.m., unless special arrangements have been made.
User groups will be responsible for leaving the Center and all facilities in the same condition that is was delivered. For example, all furniture and equipment must be returned in its customary position, the kitchen left in clean condition, dishes washed and put away, bathrooms are cleaned and all floors swept or vacuumed, waste baskets emptied into the outside trash bin, etc.
The using group shall be held responsible for all loss or damage to the property during periods when they are using the facilities.
No facilities, equipment, furniture, or kitchen items shall be added, modified, loaned out, moved, or removed.
At no time shall equipment or facilities other than those covered by prior approval be used.
Permission to use the Nabi Akram Center or its equipment shall not include liability on the part of the Center for any property damage or personal injuries resulting from user-group activities.
Use of the sound system is permitted only under the supervision of persons authorized to do so.
Shoes, food or drinks are not allowed in the main worship area for any reason.
Your program is to be held on _______________ day of ______________ 2023. From _____ to ______. As a courtesy of our service, you may use the kitchen __3__ hours prior to the start of your program from ______. The cleaning after the program must not exceed __2_ hours from the finish time of your program. Facility will be closed after _9pm_.
FEES
All persons/groups approved for use of the Nabi Akram Center are required to pay all fees
PRIOR to the start of their program, as stated below.
A flat fee of $600.00 for use of all areas

including cooking in the kitchen

(the worship facilities and its services,

full Kitchen use

,
main hall, outside sitting areas) is required at the time of signing this contract.
A flat fee of $400.00 for use of all areas

without cooking in the kitchen

(the worship facilities and its services,

Kitchen for serving food

,
main hall, outside sitting areas) is required at the time of signing this contract.
A cleaning fee of $120.00 (

If you take all the trash out and wash all your dishes we will give you 50% off on cleaning fee but our employee will still do a deep cleaning of restrooms and moping of hallway and kitchen floors

)

Please make a full payment before booking your event.

You can pay the amount online under donate/pay online tab.
Consistent and Active members of NAC will receive a 50% discount.
Checklist For Events
Have organized and put everything back in the main hall.
Have vacuumed main hall.
Have cleaned men's bathroom and have removed trash from men's bathroom.
Have cleaned ladies' bathroom and have removed all trash from Ladies ' bathroom.
Placed chairs where they belong.
Vacuumed Hallway.
Mopped Hallway.
Washed all dishes, pots, serving ware, and utensils.
Kitchen organized and everything is back in its place.
Kitchen appliances (ovens, blender, hot water heaters, etc. cleaned.
Cleaned all outside tables.
Have taken out trash from cans around the property and kitchen.
Wiped all table and counters around the kitchen.
Have swept and disposed of all things on the floor in the eating areas.
Facilities Use Application