Weekly Programs & Services
Fridays: 1:30PM to 2:30PM, Jomo'a Prayer
Thursdays: 730PM to 9PM, Dua Komayl Program
Sundays: 5PM-7PM, in Person Sunday School Classes & Family Prayer Congregation
Weekly Programs & Services
Fridays: 1:30PM to 2:30PM, Jomo'a Prayer
Thursdays: 730PM to 9PM, Dua Komayl Program
Sundays: 5PM-7PM, in Person Sunday School Classes & Family Prayer Congregation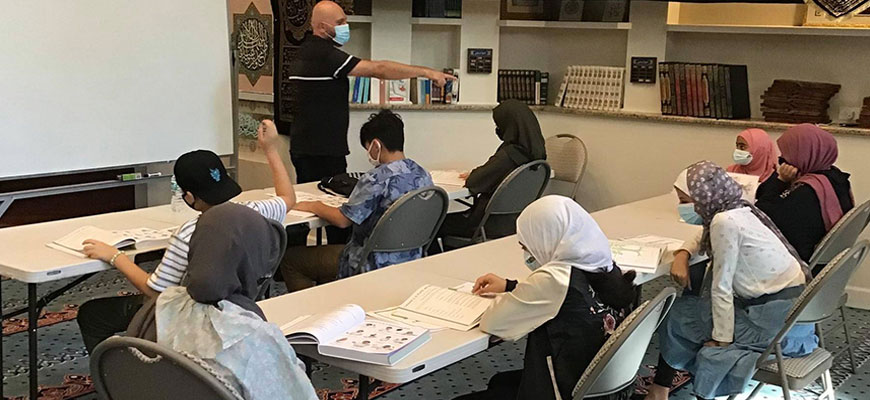 Currently our weekly programs are as follows:
Thursdays, 7:30PM to 9:30PM – Farsi Program: Recitation of Holy Quran & Dua-e-Komayl. Short Lecture. Evening prayer and Ahkam. It's an evening of get together and we encourage community members to participate.
Fridays, 1:30PM to 2:30PM – Friday Prayer Congregation:

Sermon 1 (15 min) begins @ 1:45 pm sharp.
Sermon 2 (15 min) begins @ 2:00 pm sharp.
Congregational prayer of Friday begins at 2:15 pm sharp. All believers are kindly asked to be on time please.
The service will finish at 2:30 pm in Sha Allah.

Sundays, Darul Quran School for children age group 6-8, 9-12, 13 and older. Sundays Classes, days and times varies. Please refer to our Sunday School Special Page. Teaching Quran, Ahkam, Aqaid, History and Language art classes (Farsi/Dari/Arabic). Classes are held online twice a week and in person in Masjid on Sundays.